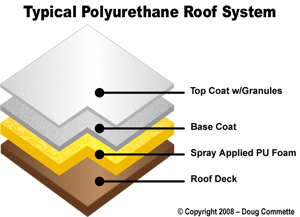 SPF requires protection from the sun's ultra-violet radiation, moisture and foot traffic. This coating helps to protect and seal the foam from any damage from these or other elements.
Once the SPF has been applied to the proper thickness and finish specifications, a protective layer of elastomeric coating, or gravel is applied. This protective layer produces a durable weather resistant surface and that can be walked on for normal maintenance.
The most common cool roof coatings used over sprayed polyurethane foam (SPF) and other roof deck surfaces are light/white colored. The most common types are:
Acrylic
Silicone
Urethanes
Polyurea
Some suppliers and contractors use a thin layer of gravel spread over the foam. This system has been used very successfully, however, elastomeric coatings are more common. The coatings are spray applied as single component, or plural component system and can be silicone, acrylic, butyl rubber, polyurea, and different urethanes. The various materials all have different physical properties and vary in cost. Check with your supplier for more details.
Coatings are usually installed in two stages: a base coat, and a final top coat. Granules are often embedded into the final coat and offer added protection against mechanical ultra-violet damage.
In time, these coatings will require maintenance, or replacement, but just like paint on your house, they can be removed and re-applied to keep your SPF roof system in peak performance for decades.
An SPF roof, like most other systems, will expand and contract during different climate conditions. It is very important that the protective coating is able to expand and contract with the SPF or serious damage can result in the form of cracks or delamination. This physical characteristic is called elongation and is something your materials suppliers can help you with to properly match the SPF and coating system to roof system and climate.